When using a search engine, there are several types of results that are returned. These results have different purposes. Knowing the difference can help your web browsing and your business. (You can click the images below to enlarge).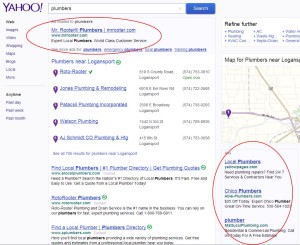 Paid Results: With most search engines, the first few results are usually paid results. This means that the companies or web pages listed actually paid the search engine for that positioning. Typically, these companies agree to pay a set amount every time someone clicks on the link. This is the largest portion of Google's income, paid search results.

These paid results can also be seen on the margins of web pages and search results. Look at the photo to the left: The paid search results are circled in red.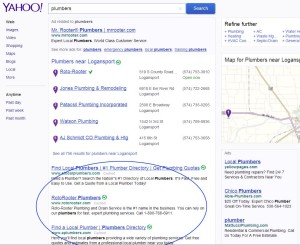 Organic Results:

The organic search results can be seen circled in blue.

The various search engines have proprietary algorithms to rank web pages. The main purpose is to give the search engine user the most relevant possible results to their inquiry. There are hundreds of ranking factors search engines consider when deciding which result to populate in organic search results. These ranking decisions are controlled by an algorithm — which is a step-by-step procedure for performing calculations often controlled by software.

While the algorithm used to control search engine rank is unreleased here are some "suspected" ranking factors:

• Keywords: Google, Yahoo, Bing, and others, check to see if the right words appear on the web page for the primary topic. For example, a page about football would be expected to have certain words associated with it. The words quarterback, score, field, weather, players, etc., are all words associated with the topic of football.

• Links: Links to and from the website are also examined. The quality of the links is highly relevant. For example, a link from Harvard University likely carries more weight than a link from an unknown community college. In our football example, a link from another football website is probably a more important link than one from a car dealership, for example. This a voting system of sorts and fundamental to the original development of a successful search engine (Google – Founded September 4, 1998).

• Media: It's generally accepted that pictures, video, and audio files increase the ranking of a web page. People tend to prefer a multimedia experience vs. one with only text. Also, it's recommended to name photos since search engines have a hard time deciphering images vs. text.

• Age of the website. Older websites often tend to get more ranking credit than those there were recently created; however, this is not always true. A new site that is highly informative and popular can often outrank an older one with less activity and stale content.

• On page Engineering. Factors on the landing page such as readability, page load time, geo-locational information, etc. contribute to how high in search results pages appear.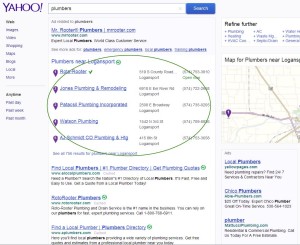 Local Results: If you're searching for the term "plumber", you're likely to get several results for plumbers in your area. Google knows that if you're searching for the word plumber, it's likely you're looking for one that's nearby. These local results typically include the company name, address, and phone number in a format that is unique when compared to other types of results.

See the green-circled area to the left.

Those are the three main types of search results. Paid search results are great, if you need or desire fast results. A bidding process determines the cost of paid search results. More valuable keywords will cost more.

Organic search results are free and can be even more valuable than paid search results. It means you have a great, relevant, and valuable web page. Getting to the top of the organic rankings can be challenging though. In many cases, expert assistance is required.

You're more likely to appear in your local listings if you manually complete the listings form and fill it out completely to 100%. The search engines will eventually find your website and construct a listing for you. However, a listing that has been claimed by the business owner and filled out to 100% completion usually shows up more often in search results. The option to include photos, and in some cases even video, can improve the odds of appearing in the local listings. For more information on SEO please visit our website here.