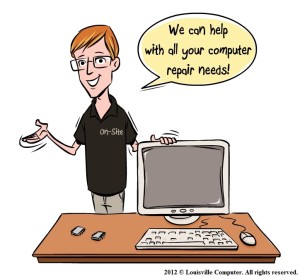 Computer repair, laptop repair or computer service issues can cause great distress. We understand your possible stress and keep that in mind when talking to you about your technology repair needs. We are glad you have found our website and hope you choose us to be your technology partner. Whatever your need — we strive to build relationships and not just make a sale. It's not about all about money with On-Site Louisville Computer Repair Co. We want you to have an excellent solution to your problem – no matter what.
We Have A Large Service Area Around Louisville, KY . . .and we love our neighbors in Indiana. We do on-site computer service for our friends in Clarksville, IN ; Jeffersonville, IN;  New Albany, IN; Sellersburg, IN; and Corydon, IN and anywhere else in Southern Indiana.  We can assist with all your laptop repair and computer repair needs — hardware and software, business and residential we will help!
"We strive to treat customers the way we want to be treated by providing the smartest computer repair solution at the best price possible." -Chris Calkins, Owner
Six Computer Services You Might Not Know You Need
1. Old Computer Pick Up and Recycling: Do you have a closet full or basement full of computers you don't know what to do with? You're not alone! If you recycle it, rather than throw it away your computer might end up in a school or at another worthwhile organization. You can get a tax write-off and help your community. On-Site Louisville Computer Repair Co. can help with removing your data from your computer prior to donation.
2. Data destruction: Are you afraid to donate your old computers because you want your data to be protected? Good thinking! We follow Department of Defense Data Destruction Protocols when handling your old machine and can make sure you data is gone permanently so you can donate your old computers and still sleep well at night. Protecting your identity and your important sensitive information is our specialty and primary concern. Before you sell, give, or throw away a computer, consider using this service.
3. Tune Up: Just like your car, your computer needs a tune up every once in a while, too. Desktop computers and laptop computers accumulate registry errors, the hard drive becomes fragmented, junk files accumulate, programs become outdated, bad utilities and toolbars get installed by accidents, software conflicts occur and the list goes on and on. A competent computer repair firm can identify these issues and prevent significant problems down the road. We recommend a semi-annual tune-up and virus check and virus removal.
4. Virus Removal: Nearly everyone has had a computer virus at some point. Some viruses are merely annoying; others can render your computer inoperable. While anti-virus programs can detect and prevent many viruses, the newest viruses often aren't detected by anti-virus suites. Unfortunately, many viruses work behind the scenes and slowly disrupting your computer without you even knowing you have them on your machine. Up to 30% computers have a virus and the user doesn't know about it. It's a good idea to get a virus check with your annual computer tune-up.
5. New Computer Set Up: Computers continue to grow in power and capability each year, but the documentation that accompanies new computers seems to grow smaller and smaller. We can come to your location and unbox and set up your new computer or laptop. We can remove bloatware (free trials and junk) transfer your files and software, optimize your computer or laptop settings, set up your printer and provide some training on your new machine.
6. Home Office and Work from Home Solutions: As the work from home revolution continues to grow and evolve new IT and computer service solutions are needed by people with a home office. The normal IT company from "the office" might no longer be available. We can be your own private weapon to help you do computer work from home and move up the corporate and work ladder. Whatever you need from Microsoft Outlook issues, home office setup, home printer and scanner problems, Zoom meetings, Microsoft Teams help, Online meetings help, webcam setups, and many other home office computer needs we can help! Just call the office for a home office computer setup or help request today!
Tech Support & Other Scams are at Epidemic Levels!

There are all kinds of phone and computer scams going on these days. You might have received a call from the "FBI", "IRS" telling you that the police are on the way to your home this very second. The scammer then directs you to go to your computer where they take remote access and help you transfer funds to them to solve the problem. Or sometimes you get an email or mysteriously land on a website where someone that identifies himself or herself as a Microsoft technician or a Norton technician, for example, and says they noticed a problem with your computer. Of course, the advised solution in these scams is to hand over control of your computer to the caller. You are often advised to download and install a remote access program and well, that's where the problem begins.

The caller can then access your computer through their computer. The caller then has the ability to install any type of malware he chooses, view your data, or extort money from you. Often, you are then given the privilege of paying for this service, usually several hundred dollars. Guess what, now they have your credit card or debit card information, too!

How to Identify Tech Support Scams:

A company isn't going to call you to initiate technical support. Think about it. Would Microsoft, or any other large company, care enough to spend resources reaching out to you to solve your computer issue? Unlikely. Try getting tech support when you need it, and you'll quickly realize how silly it is to believe they're going to track you down when you need help. And remember, tech support scams can also be initiated online. You might receive a pop-up or be redirected from a webpage to another website.

The URL is nonsense. Instead of a website like www.microsoft.com, you'll see something like www.12742xmicrosofttechsupport.net.
You'll often have trouble closing the webpage. The window will expand to take over your entire screen. You might lose access to your toolbar, too.
You might hear an alarm or other obnoxious sound. This is to create a sense of urgency. Again, you might lose control of the active window. There might be a message informing you there is malware on your computer. Just turn down the volume, and use the ctrl-alt-delete trick.

All of these tech support scams ultimately aim to separate you from your money. Trust your instincts, stay calm, and ignore all of these scams. They can't harm you unless you help them to do so. At the end of the day the best way to protect yourself is to get a relationship with a competent local computer repair person whom you talk to regularly and NEVER let anyone else have remote access to your computer.
Work-From-Home Computer Solutions, In-Home Computer Help, Home Office Computer Help, Zoom Meeting Help, Webcam Help, Home Office Computer Set-up, Computer Virus Removal, Computer Sales, Password Removal, New Computer Sales, Computer Upgrades, Wireless Connections, New Computer Set-Up, DC Jack Repair, Used Computer Sales, Refurbished Computer Sales, Business Computer Sales, Computer Charging Port Repair, Motherboard Repair, Server Repair, File Server Installation, Server Configuration, Motherboard Replacement, Business Computer Service,  File Server Service, Virus Removal, Anti-virus Software, Computer Security Analysis, Computer Network Installation, Computer Performance Evaluation and Optimization, Wireless Network Troubleshooting, Computer Software Installation, PC Hook-up, Computer Training, Microsoft Office Training, Internet Search Training, PC Maintenance, Data Transfer, Data Back-up, Data Recovery, Computer Updates, Software Updates, Windows Upgrades, Laptop Screen Repair, RAM Upgrades, Printer Hook-up, Virus Protection, Software Installation, Email Set-up, E-bay Listings, Malware (Spyware, Adware, Trojans, etc.) Removal, Laptop Screen Panels, Laptop Spill Damage Repair, Laptop Fans Repair, New Keyboards, Laptop Hinge Repair, Computer Data Transfer, Flash Drive Data Recovery, Computer Power Supply Replacement, Computer Diagnostics,  Hard-drive Upgrades,  Computer Tune-ups, Wireless Access Points Installation, Wireless Extender Installation, Server Repair, Websites, Search Engine Optimization, Custom Software, Mobile Apps and Much More.
Owner's Google+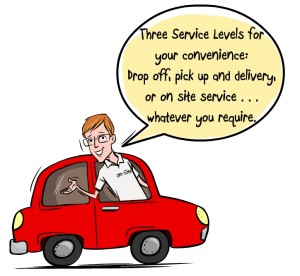 We offer three levels of computer service. Drop off, pick up and delivery and on site service with drop off being the lowest cost and on site being the highest. We offer these three service levels so people can choose the level of service they require and fits their budget. The one exception is we usually do NOT do hardware repairs on-site except in the case of emergencies (you are homebound, you handle highly sensitive data for the military, etc.) Hardware repairs need to be performed at our shop with electrostatic mats, soldering stations, magnification and lighting, and other specialized equipment present.
Privacy Policy:
This Privacy Policy governs the manner in which On-Site Louisville Computer Repair Co. collects, uses, maintains and discloses information collected from users (each, a "User") of the https://computerrepairlouisvilleky.com/ website ("Site"). We may collect personal identification information from Users in a variety of ways, including, but not limited to, when Users visit our site, fill out a form, and in connection with other activities, services, features or resources we make available on our Site. We may collect non-personal identification information about Users whenever they interact with our Site. Our Site may use "cookies" to enhance User experience. On-Site Louisville Computer Repair Co. may collect and use Users personal information for the following purposes: To improve customer service. Information you provide helps us respond to your customer service requests and support needs more efficiently. We adopt appropriate data collection, storage and processing practices and security measures to protect against unauthorized access, alteration, disclosure or destruction of your personal information, username, password, transaction information and data stored on our Site. We do not sell, trade, or rent Users personal identification information to others. On-Site Louisville Computer Repair Co. has the discretion to update this privacy policy at any time. By using this Site, you signify your acceptance of this policy and terms of service.
Contact Us: