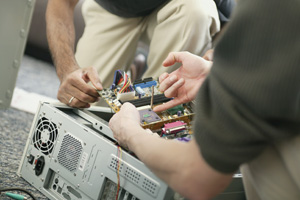 When your computer isn't working properly, it can sometimes put your life at a standstill. In today's fast paced world, we have become heavily reliant on computers and electronic devices. Much of our correspondence is handled via the computer. With computers used for correspondence, banking, work and even scheduling activities, a computer with problems can turn lives upside down.

If your computer is not functioning as it should, you need fast, affordable computer repair. There is no problem too small or too big for us to handle. If your computer is beyond repair and you need to choose a replacement, we can help you with that aspect as well. We will gladly help you select the computer that best suits your needs and we can install any upgrades that are needed so your computer will be able to perform all the tasks you need it to be able to handle.

Competent computer repair services are phone call away. We offer three levels of service for residential customers: drop off, pick up and delivery, or on site service . . . whichever your budget allows (listed from least expensive to most expensive, respectively). Below is a list of a few of the services we provide but we can do many more.
Computer Upgrades, OS Reinstalls, Wireless Connections, New Computer Set-Up
Virus Removal, Anti-Virus Software, Computer Security
Computer Performance Optimization, Server Configuration, Computer Software Installation, PC Hook-up
Computer Training, Microsoft Office Training, Internet Search Training
Preventative Maintenance, Data Transfer, Back-up, Data Recovery, Computer Updates, Software Updates
Wireless Networking, Laptop Screen Repair, Memory Upgrades,
Printer Hook-up, Virus Protection, Software Installation, Email Set-up, Ebay Listings, Malware (Spyware, Adware, Trojans, etc.) Removal,
Laptop Screen Repair, Laptop Screen Replacement, Motherboard Repair, Laptop Fans, Laptop Keyboards, Computer Power Supply Replacement
Memory Upgrades, Hard-drive Upgrades, Diagnostics, Computer Tune-ups
Windows Upgrades, Customer Software Development, Home Network Installation, Audio/Video Installation, Security Cameras, Much More.