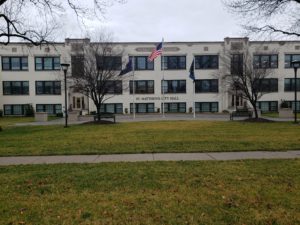 We are in  St. Matthews, Kentucky and in the Frankfort Avenue Area  almost every day and it is one of our favorite places around Louisville to provide computer services and repairs. On-Site Louisville Computer Repair Company has done hundreds of repairs for both business and residential customers around St. Matthews. We cover the entire area including Kresge Way, Cannons Lane, Pee Wee Reese Road, Breckinridge Lane, Willis Ave., Winchester Road, Browns Ln., N Hubbards Ln., S. Hubbards Ln., Massie Ave., and every other area of St. Matthews. Please call (502) 963-3981 for a fast, free phone consultation on your computer issue today.

Computer Repair Topic: When Should Your Computer's Operating System (OS) be reinstalled?

Almost all computers should have the operating system reinstalled occasionally. This can be a great cure for a slow computer.
Startup programs. As you add software to your computer, some of those programs are added to the startup process. This slows down your computer's startup. These programs also slow down your computer by running in the background.
Security suites. These used to be all the rage, but are very problematic also. Incorrectly installed, configured or certain types of security suites can be disastrous for your computer performance.
PC cleaning tools like security suites are largely unnecessary and hog system resources and most tear up your software environment rather than provide any real performance benefits. These are frequently added to the startup process, too.
Various junk and junk software. Over time, poorly written programs can fill up the registry with irrelevant entries and create useless DLL files. A well-written program does a good job of cleaning up after itself'; poorly-written programs do not.
A fresh reinstall of your computer's operating system will preserve your files and eliminate many of the issues that are causing your computer to slow down.

Other Computer Services and Pages

Desktop Computer Repair

Laptop Repair

Virus Removal

Laptop Screen Repair

Motherboard Repair

DJ Jack Repair

New Computer Setup

Home Networking

Computer Repair and Service Articles

7 Do-It-Yourself Computer Service Tips

5 Surefire Ways To Get A Computer Virus