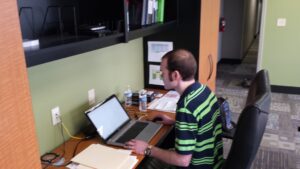 As technology continues to advance at an exponential rate, the demand for individuals with strong computer and IT skills also rises. One way to establish credibility in this fast-paced industry is to obtain relevant certifications. For young people who are just beginning their journey in this field, there are several certifications that they can consider getting as a prerequisite education. Here are some of the certifications worth considering:

1. CompTIA A+

CompTIA A+ is a foundational certification that covers essential computer hardware and software technologies. It is ideal for young people who are beginning their careers in the computer service and repair industry. Through this certification, candidates will learn about installing, configuring, troubleshooting, and repairing PCs, mobile devices, and various other hardware and software components.

2. CompTIA Network+

CompTIA Network+ is an entry-level certification that focuses on networking technologies and concepts. It covers topics such as network design, network protocols, network security, and various other networking-related topics. This certification is ideal for young people who want to pursue a career in the IT field.

3. Microsoft Certified Solutions Associate (MCSA)

MCSA is a Microsoft certification that covers various aspects of Microsoft technologies, including Windows, server administration, and database technologies. This certification is ideal for young people who want to specialize in Microsoft technologies.

4. Amazon Web Services (AWS) Certified Solutions Architect

AWS Certified Solutions Architect is a certification that's designed to validate the skills and knowledge needed to design and deploy scalable, highly available, and fault-tolerant systems on the AWS platform. This certification is ideal for young people who want to specialize in cloud computing.

5. Cisco Certified Network Associate (CCNA)

CCNA is a certification that covers networking concepts and technologies, including routing, switching, security, and troubleshooting. This certification is ideal for young people who want to specialize in networking and network administration.

6. Best Buy Hardware Center Worker

I always tell people that if they are interested in hardware they should check with Best Buy about working at a hardware center. Unlike the Geek Squad which works in store and does software repairs and hardware sales the Hardware Center Workers focus on motherboard repairs, DJ jack repairs, laptop screen replacement's, ram upgrades, and other things "hardware."

In conclusion, obtaining relevant certifications can help young people establish credibility in the computer service and repair industry and the IT industry. By earning these certifications, young minds can gain valuable experience and knowledge that is beneficial for their future careers. So, if you're a young person interested in pursuing a career in the computer and IT industry, consider obtaining the certifications mentioned above. These certifications will not only enhance your resume but will also help you develop the necessary skills to excel in this field.